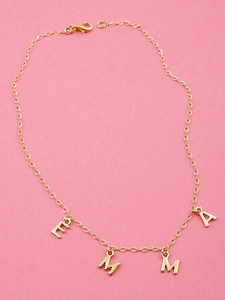 Custom Name Necklace Plain Gold
Regular price $29.99 Sale
*Please message us the name you want on Facebook or Instagram, @brickandmotorboutique*
Customize this adorable gold chain and charms with a name, phrase, or anything else you would want on a necklace. Maximum length is 9 letters for our custom name necklace. We currently do not accept special characters or numbers. A custom name necklace is the cutest gift for yourself or a loved one!
Spell name out on checkout page where "Add a note to your order" is listed, if you are given that option.
Takes at least a week for custom orders!